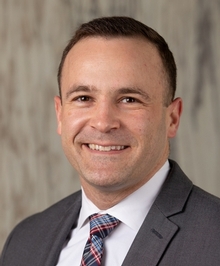 EDUCATION
U.S. Army Judge Advocate General Legal Center and School

Charlottesville, Virginia, 2016
Masters of Law (LL.M)
Military Criminal Law

University of Georgia School of Law

Athens, Georgia, 2012
Honors: Cum Laude
Doctor of Jurisprudence

Virginia Military Institute

Lexington, Virginia, 2003
Honors: Cum Laude
Bachelor of Arts
Major: Spanish and International Relations
CONTACT INFORMATION

V-Card
Mr. Samson Newsome was admitted to the Georgia Bar in 2012 and comes to McGrew Miller Bomar Bagley having developed significant trial experience as a civil litigation attorney in West Georgia and a judge advocate in the United States Marine Corps.
In West Georgia, Mr. Newsome primarily handled civil litigation for the law firm of Tisinger Vance, P.C. There he gained a broad range of experience, defending all manner of claims such as general liability, corporate dissolutions, shareholder disputes, breach of contract, torts, and insurance coverage suits.

As a Marine Corps attorney, Mr. Newsome served in numerous capacities. While a member of the Marine Corps' West Coast Complex Trial Team, Mr. Newsome was responsible for prosecuting the Marine Corps' most complex criminal cases, including murder, felony-level assaults, and crimes against children. Later, Mr. Newsome led and supervised an office of ten attorneys charged with prosecuting all criminal cases that occurred aboard Camp Lejeune, the largest Marine Corps base on the East Coast. Mr. Newsome also served as a Staff Judge Advocate, where he was the sole legal advisor to a commanding general and his principal staff on all legal matters, which included criminal law, the law of armed conflict, rules of engagement, government ethics regulations, the application of international agreements, and fiscal law.

Mr. Newsome graduated from the Virginia Military Institute cum laude in 2003 where he received a Bachelor of Arts in both Spanish and International Relations. Following his graduation from VMI, Mr. Newsome immediately commissioned as an officer in the United States Marine Corps and was later awarded a scholarship from the Marine Corps to attend the University of Georgia School of Law, where he graduated cum laude in 2012. In 2016, Mr. Newsome attended The U.S. Army Judge Advocate General Legal Center and School in Charlottesville, Virginia and earned his Master of Laws (LL.M.) in military criminal law. Prior to becoming a Marine Corps attorney, Mr. Newsome served as a U.S. Marine Corps infantry officer and deployed twice in support of Operation Iraqi Freedom. He continues to serve as a lieutenant colonel in the Marine Corps Reserves where he commands a reserve infantry battalion.

Mr. Newsome lives in Carrollton with his wife, Tai, and their five children. He is a member of the Marine Corps Association of Georgia Lawyers, the Atlanta Chapter of the VMI Alumni Association, and attends Southern Hills Christian Church at City Station. When not litigating or serving in the Reserves, Mr. Newsome enjoys catching fish, taxiing his kids to wrestling matches and gymnastics meets, competing with his wife at the local CrossFit gym, and getting tied into knots while practicing the art of Brazilian Jiu-Jitsu.